Get more information on EHMSG's 30th International Workshop on Helicobacter & Microbiota in Inflammation & Cancer  in Bordeaux
Come to Bordeaux by train
Bordeaux from Paris (2 hours) and Bordeaux from Paris Charles-de-Gaulle Airport
Ticket booking : https://uk.voyages-sncf.com/en/
How to access the Congress Center
From the airport, the shuttle is the best option to go to the Congress Center area (taxis are expensive in Bordeaux).
Tramway
Line C towards « Parc des Expositions » – Stop at « Palais des Congrès » (approx. 20 min from Bordeaux City center). Be aware of the destination of the tram. More info : https://www.infotbm.com/en/ligne/C
You can buy 1 ticket (1.5 €) or 10 tickets (12.70 €) at each tramway stop with a debit or credit card. Tickets can be used for both Buses & Tramway.
If you are arriving at the « Gare St Jean » train station, the tramway will be the fastest way to get to the Congress Center.
You can find more info through the Public Transportation Service's mobile app or website or through the Google Maps app.
Remember to use the French words to get directions :
Airport = aéroport
Train station = Gare Saint-Jean
Congress Center = Palais des Congrès
Bicycles
You can rent a bicycle for 24h (with a 200 € deposit in case of theft, accident): 1.50€ for 24 h + 30 first minutes free +  2€ / hour*.
To avoid the extra fees, you can change bicycles every 25 minutes (put the bike back in a station and take another one using the code sent to your phone).
If you have a car or a bicycle, this website may be useful: https://en.mappy.com/#/1/M2/TItineraryHome/N0,0,-0.58053,44.84055/Z11/
Accommodations
The best is to be in the center of Bordeaux (highlighted area). It takes only 20 min to go to the Congress Center.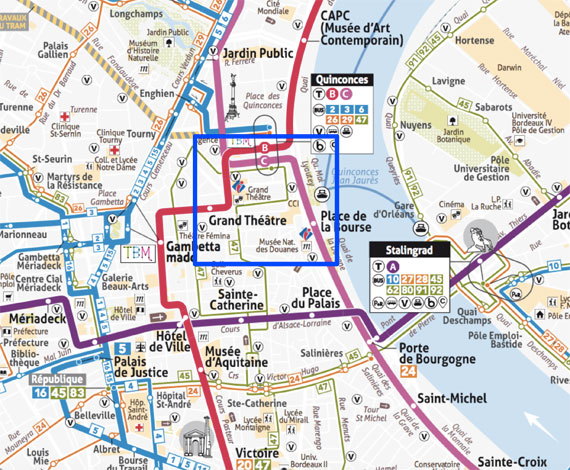 PS : There is no tramway from 1 to 5 AM.
Tourism in Bordeaux
Tourism office
More info on http://www.bordeaux-tourism.co.uk
Sightseeing programs
« Bordeaux Luxury Unlimited »
Contact: Mr Jacques LE GOUEFF le-goueff.jacques(at)orange.fr if you are interested.